Peter Kapitonov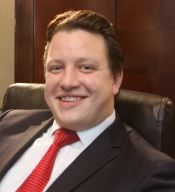 Peter Kapitonov, a native of the Bronx and an attorney licensed in NY and NJ, manages the New Jersey court cases for clients at Musa-Obregon Law PC, concentrating in criminal defense and general immigration, including deportation.
A sergeant in the United States Marines, Mr. Kapitonov served in Fallujah in Operation Iraqi Freedom and participated in operations in the US and Japan.
A graduate of the famed Bronx High School of Science, Mr. Kapitonov went on to graduate Magna Cum Laude from the John Jay College of Criminal Justice in NY minoring in law, philosophy, and history. Dean-listed with high honors at the New York Law School he graduated with Honors cum laude and twice received the Alfred D. Lerner Schorlaship for "a veteran of the armed forces who demonstrates excellence in legal studies. " Mr. Kapitonov also served as In-House Counsel for a real estate holding company in NY handling residential and commercial disputes in court.
Wanting to fulfill his passion of defending people and serving the immigrant population, he joined Musa-Obregon Law PC. While in law school, Mr. Kapitonov interned for the Honorable Judge Richard L. Price of the Bronx Supreme Court and drafted judicial decisions for the judge and assisted in judicial proceedings including search warrant applications. During law school, he also interned at Appellate Advocates in NY drafting appeals for people convicted of serious felonies crimes.
Mr. Kapitonov who is fluent in Russian, has received numerous awards including a Certificate of Recognition from Senator Carl Andrews NYS Senate 2 nd District, the NY State Assembly Certificate of Merit, the NYC Council Citation and various military awards and honors.